Another Crew Change
Jan/17/08
January 18, 2008 - Another crew change We have just arrived in Zihautanejo. The water temp is 80 and it is tropical balmy. We arrived at sunset so we have not set foot in town yet but from the boat it looks good. We plan to spend a few days here while we shuffle crew a bit more. It will be sad to see Daniel, Mariah, and wonderdog Tux leave for now, but we are happy to be picking up the Doerings for the next week or so. We should be in Acapulco by the 23~24 of Jan and will plan the next move then. Cheers, Richard
Moved Again
Jan/11/08
Hola amigos!!!

The new mast rings turned out great and they were installed without problems. We ended up fabricating them completely from new stainles steel bands and worked in a bushing to hold the vertical shaft of the gooseneck.

On to other news, Ross and Lynette flew home from PV. then we set sails again. We are anchored in Tenacatita bay with Reba and Cabarete. Tenacatita is about 130 miles south of PV and 20 miles north of Bara Navidad. we will be here for a few days and then push on to Las Hadas. All systems are working great and it feels really good to be out of the marina.

The Doerings arrive on the 18th in Zihuatanejo and fly out on the 27 from Acapulco. We plan to spend some time in Acapulco just to relax before continuing south.

Cheers, Richard


Crew Shuffle
Jan/05/08
January 6, 2008 - Crew Shuffle
Ahoy mates!

The two newest adventurers (Byron and Paula) have found their way back to the firm and steady grasp of earth we know as So Cal. This part of the trip has been completed and now home it took couple of days to catch back up to the pace of the connected world and get logged back on. Looking at the big picture it feels strange to take 8 days to go 1100 mikes and about 5 hours to return. In that same 5 hour trip we went from 85 degrees and toes in the sand to 20 degrees and snow on the ground in Salt Lake (no margueritas in SLC either), then gray/cloudy and 62 in Newport with a few days of rain in the forecast. Paula says we should have turned around at the first security check.

My personal references to this "little speck on big planet" division are getting to a point where I think I should start a logbook and keep track of my hours before it all starts to run together and I have something to look back on when I am 80. In review, it was another exciting trip with a bit of everything thrown at us. I think this trip was most different due to the landfall and a week in a new and strange place to explore before heading back. Both Paula and I had a great time, but I can't help but feel like I forgot something besides our fleece jackets in the middleberth. Possibly it is a reference to something I read somewhere. Take a little piece of every place that you visit, and leave a little piece of yourself in exchange. That's the way to travel.

Maybe I can't shake the fact that I left the boat in it's state of disrepair. The mast rings were still broken when I left, but there is a plan in motion to get them repaired and was the second stop in the loop to drop me off at the airport. I have not heard yet how that is all going.

I guess that is just a part of cruising. If I could have a nickel for the times I have heard the phrase "Cruising is defined as fixing your boat in exotic locations".

More research into this is needed.
Byron and Paula
Astor Cruising Janitor

Here Comes 2008!
Dec/29/07
December 31, 2007 - Here comes 2008
Yes, it's about to end and a new one begin. 2007 was great, but let's hear it for 2008! I hope all is well with the gang and there are not too many hangovers.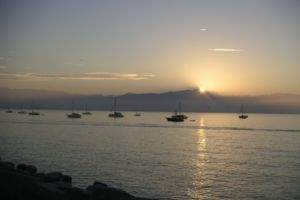 The crew is having a great time and enjoying the little town of La Cruz. We are actually on the outskirts of Puerto Vallarta(away from the tourist junk) in a brand new marina still under construction. Much of the main docks are finished and more still being constructed. The grand opening was back in November but I think the only thing they must have opened would have been the bathrooms and showers. They are still finishing out the main building and it looks like they are attempting to put in the glass at this point. During the day there will be several dozen workers swarming around the grounds creating quite a racket. We have all we need so there are no complaints from here. We have rented a big van to get around and have been in to see the zoo, but this place is kinda nice.
The attached town of La Cruz is actually a little sleepy fishing village that is classic Mexico. Neat real cobblestone streets and when someone decides to make a required repair they have a couple of guys that roll rocks back into the holes and call it a day. Rattly trucks dodge the sleeping dogs in the middle of the streets. The little houses are in all condition of builds and rebuilds and feature scary spans of concrete supported by random pillars using sometimes banyan tree trunks, brick columns or whatever was around that day. Every now and then I can find the staircase that defies gravity and changes direction in midair and continues with no real visible means of support. The junction of power wires on the poles are an amazing fray. It makes me really appreciate the building codes of U.S. construction. There are many places that you can clearly see a section of the house simply fell off, and they just strung up a tarp or found a section of steel roof to fix it and use it as a new open air patio. There are some nice houses tho, and these are painted up in fun bright colors. The people here are all very friendly and we have no second thoughts about walking any of the streets at night.
We have been truly impressed at the small local food features here. Georges (HORE-hay's) tacos on the street starts off sort of on the guy's patio but is so popular the tables expand out into the street. He doesn't serve alcohol so we have to hit the little market on the way and grab a few coldies first. He is only open on the weekends but recently opened on Wed nights due to popular requests. On another night, we almost turned around from one place after scanning the very small menu, but instead were treated by the best shrimp dinner yet. Tonight we dine at the Black Forest Cafe. A strange out of place authentic German house that also serves the best margueritas and amazing onion rings that just melt. I hear there is supposed to be a parade thru the center of town and we might wander over to Philo's or one of the other cruisers hangouts and see if we can get it for the midnight countdown.
We haven't been doing too many of the regular touristy things but have been making regular runs into the real parts of PV attempting to locate various widget items to help put the boat back into cruising form. The pilot house was in total disarray for a few days which is my excuse for not sending out anything sooner. Our latest guests (Ross and Lynette) got in with some of the old (and almost discarded) parts of the main gooseneck mast straps. These will be used to replace the cracked units. That is plan A(or are we more into plan E or F... I forget). It doesn't really matter at this point as not much is going to get done these next few days anyway because of the holiday.
Then we will be back by the 3rd, and face the end of this chapter.
C'ya
Byron & Paula
Astor Cruising Janitor
Christmas in PV
Dec/28/07
December 31, 2007 - Christmas in PV
Hola! Como Estas? It was the morning of December 25 and all hands were on deck as we approached the harbor of La Cruz, just North of Puerto Vallarta. It was 5:00 am in the morning and I was half asleep as we motored in, my night shift having just ended at 2:00 am. The first local I saw was a small sting ray sunning itself, flapping its wings at the surface as if to wave hello. The harbor we were staying at is new and still under construction and there were only a handful of boats occupying its docks. We motored into our slip and made short work of settling in.

Well we finally made it after eight days of straight sailing. It was time for a well deserved break. We sat down on deck for a cup of coffee and fresh cinnamon buns complements of chef and her clever use of the bread machine. All was quiet as we stuffed ourselves with cinnamon sugar delight, when suddenly the radio sputtered to life and a voice rang out . . . "Lollygagger, Lollygagger this is Dilly Dally." Silence. "Lollygagger, Lollygagger this is Dilly Dally." Again Silence. Then . . . "Dilly Dally, Dilly Dally this is Fairy Tale, over." We all just looked at each other for a reality check and busted out laughing. I occurred to me that some of the neighboring boaters may have lingered at bit to long in PV or perhaps had partaken in one too many bloody mary's this early morning hour.

We spent the morning in clean up mode. The men swabbed the deck, while the gals white tornadoed down below in anticipation of the arrival of friends for dinner. We took a lunch break and treated ourselves to lobster bisque and champagne. Then, back to the task at hand. Holiday stuff was Literally pulled out of the wood work, presents wrapped, and a mini tree decorated and before we knew it Christmas had arrived. And then, company came bearing Christmas dinner and lots of cheer. All were in good spirits and quickly filling up on them. It suddenly occurred to me that I was living a modern day Christmas Carol. I felt like tiny Tim, and though I didn't have a bum leg, my somewhat disable constitution has left me a little lack luster and low on energy.

Our first few days here in La Cruz have been great. My land legs have finally returned. Yesterday we visited with our friends at Paradise harbor in PV. It's very Americanized and we much prefer our quiet little rural harbor instead. Because of the construction going on in and around our harbor each time we venture out into town its a four-wheelin' experience in our rental van. One thing you have to watch out for is the Mexican equivalent of botz dots. Here they are about eight inches tall and can take your suspension out if you are not watching.

We have had the best margaritas and food - in that order - in La Cruz. We enjoyed tacos and quesadillas at a local taco house which is only open Wednesdays and weekends. And it's BYOB, so we had to go around the corner to a small market for beer and bring it back to our table. Last night we eat at the Black Forest Cafe and it was awesome. Who would have thought one could find and authentic German restaurant in Mexico run by two German gals. They had the largest margaritas we have had so far, in glasses we could barely lift to toast with and the german food was outstanding.
We are here until the 3rd so we have a little more time to explore. More to come.

Paula & Byron
Merry Xmas!
Dec/23/07
December 24, 2007 - Merry Xmas
Hey look at that. By the time you get this it will be xmas eve. I hope all have happy christmas and a great holiday. This evenings position at 1100hrs Dec 23 21.38N - 107.55W - cse:104 - spd:5.1kts - w:NE 10.4 940 miles from Newport, about 150 to PV. Yesterday we left off at the end of one heck of a blow. Around midnight the wind finally disappeared. We went on deck to clean up a bit and put up some more sails when Richard noticed a really bad thing. The upper mast ring (1 of 2) of the gooseneck straps that we just finished for this trip was broken and hanging. This was a HOLY CR@P moment for several reasons: We don't know exactly when this happened. We don't know why this happened. We just got done going from shortened sail(third reef) to full main. It had to come all down again! There is alot more sail than the boat I normally am on. It's work to get it all down and lashed. Whew! How the hell are we going to fix it? Are the other castings of this fine quality?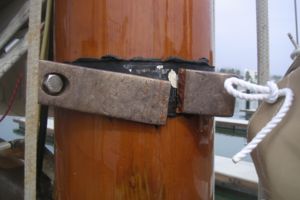 There really isn't much load on the part where it broke. It snapped on the forward side of the ring opposite from where the boom attaches. The only load on the rings (while under sail) is keep the gooseneck from turning when the boom is out from center. When sailing, the boom is being compressed into the mast, not pulled away. Since I haven't posted too many picks of the new hardware yet you will have to take my word that these things were way overbuilt and almost more a work of art. The break in the casting looks like a clean snap of a cookie. First look shows a bunch of contaminants in the metal. That's not exactly what we ordered. We'll see what is done about that later. Only supported by the bottom ring now we cannot use the main. Since the winds were so light we went to the diesel wind for the evening. The morning inspection showed the ring was still broke. The magic elves didn't make it out here I guess. We put the boom crutch under the waggly end for support since it was needed for getting to the antenna wire refasten project anyway. Standing on the boom, hanging onto the backstay in rolling seas is another one for the resume. As you can see, the HF works again.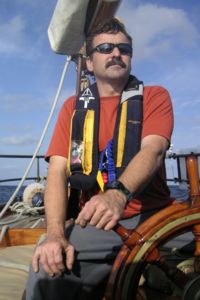 AS SOON as we got done with that(we couldn't have timed it better), the winds started to build and we decided to pull out the jib and see what it could do. With only a #2 Jib and 2 staysails we took right off to the 9's. Amazed and satisfied, we shut down the diesel. We have been treated with speeds between 8 an 9 all day long in wind speeds of 15 to 22kts. Not bad for a front loaded ol' schooner. There was talk of using the fisherman if it got light, but not today. Only now (0000hrs - hey its xm eve!) the winds have gone down to 10.2 and my speed dropped into the 5's. It might be time for the iron wind again. It's really quiet and peaceful. I hate to break that with the rattler. (also a great night for manual steering. I was out earlier hand steering again for a mail retrieve in short sleeves under the stars- loving it!) We should make port tomorrow sometime. We'll let you know. Merry Christmas everybody
Byron & Paula
s/v Astor
drifting along - PV bound
A Very Busy Day
Dec/22/07
December 23, 2007 - A very busy day
Ahoy digital crew! current Position at 0900hrs Dec 22 23.42N - 111.48W - cse:140 - spd:9.4kts - w:NE 15.8 (We just hit 10kts for a while! Wheee!) 680 miles from Newport, about 100 to Cabo or 390 to PV.
We shook out the two reefs from the main this morning, pulled out the jib and still using the main and fore staysails. If it goes lighter, the fisherman is ready to run up. The winds are predicted to go light later in the evening(really light) as we get into in mid-channel jump from the cape to PV, so we are making up some distance while we got it. We can always burn up some diesel if we need to later.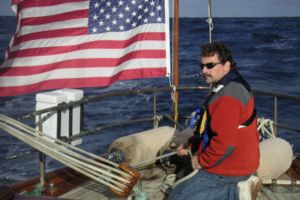 Looking at the nav we are coming up along the boot of baja and should be rounding the point later today. 40 miles from shore finds us under slightly hazy skies and preparing for another day of sunshine. The large rollers from yesterday have been blown out a but from this cross wind. It makes for an occasional slap and spray over the deck so we are content with hiding out in the pilot house for the moment. ----- 1400 hrs update: 23.11N - 111.15W - cse:115 - spd:7.2kts - w:NE 20.2 (about 45 miles later) Wow! how things can change in a couple of hours. Part of a course change in rounding has us heading into the wind a little tighter. The wind picked up a bit more and that stirred up the waves too. They call this beating to weather for a reason. We just put two reefs back in the main, rolled up the jib and took down the main staysail. It was time for the staysail as we discovered it had a blown out pistonhank(it was pretty worn out anyway- where did we pack those spares?). We also had to wrestle on a few of the stormcovers for the skylights. A bit slower, a bit more heeled over, but a bit more comfortable ride and we aren't getting as much water on the deck. No shuffleboard tourney today. That's ok because I was about due for a nap after all of that! Looking at the charts shows we might be getting some extra blow off that mountain range on the tip of the penn. It makes sense. 2000 hrs update: 22.52N - 110.30N - cse:109 - spd:6.0kts - w:NE 17.4 Well no nap for me I guess. Things are finally starting to calm down and we are about 30 miles offshore and parallel to cabo. We aren't stopping since we don't really need to. It would put us in around midnight which is never a good idea anyway. We managed to get the stormcovers on the main salon skylights before things got too nasty, but not on the companionway hatch or the pilothouse. We thought we were safe enough but the winds built to more than 25 kts(Richard says that thing was way off.. more like 30) and we were taking alot of water on deck. It was coming down into the master stateroom in buckets. I was told to bring foulies for a reason. It was pretty sloppy on deck. We put the new third reef into the main, wrestled the remaining stormcovers on and lashed down a few other items that were getting ready to jump the rail. One thing I appreciated was that it seems we are finally into warmer waters. P says I needed a shower anyways. The last thing noted before ducking under for the night was that for some reason the HF antenna wire was ripped off the backstay. IE- this message will have to wait till we fix it tomorrow. ----- Quite a different story yesterday. We set our sails in the morning and ran that way all day without touching them. Once you get used to the motion of running downwind in a following sea it was fantastic. There is a moment when surfing that most boats are on the edge of spinning out, but not for this boat. We ran that way till the very end of our watch (2am) and the wind strangely clocked around 110 degrees to port. Shift change was a good time to tighten up some sails and Richard made the call to put two reefs in the main at that time(he head a feeling). I guess later on the winds got into the 20's. It was a good thing.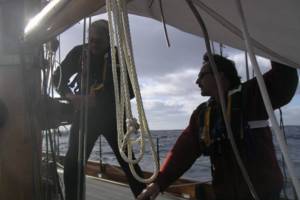 Anther notable from yesterday. There was no traffic during the day at all, but as soon as I got on watch someone must have told the cruise ships. I had one come up from behind and chase me down. Made me nervous enough to come off my line by 10 degrees when he was 8mi off. He passed two miles off my starboard. That may sound far but those things are huge and feel like they are right on top of you at that distance. As he was midship of me, another one showed up in front. Heading towards each other, things happen much faster. I went up another 5 degrees and this one split between me, the other southbound liner and passed at 1.5 miles off my stb. As I was admiring the passing light parade thru the binocs, Yet another showed up on the radar but he was far enough off to port that I just resumed course and he passed at 4mi. I had 4 cruise ships on my radar at 12 mi scale. It must have been change port Friday. Time to rotate the tourists. After watching the blips clear off the display, one more tried to sneak by off in the distance but I saw him. Food has been top notch as Lani continues to pull out all sorts of good stuff from her magic galley. We had orange chicken over rice(thanks TJoe), lasagne, homemade split pea soup that was more like a stew, not to mention the super sandwiches she makes up for the lunches. It's amazing if you have never been aboard. P is trying to figure it all out(I hope she is taking notes).
B&P
The midst of it all
Dec/21/07
December 22, 2007 -
Ahoy digital crew! current Position at 1200hrs Dec 21 25.28 N - 113.16W - cse:133 - spd:7~9 - w:20 Looking at the nav we are right in the mid of the 'big bite' 60 miles from shore, 60 miles from Cabo San Lazardo. The bigger picture shows another 240 to Cabo or 520 to PV. It sounds like alot to go until I look behind and see around 540 miles back to Newport. We are under mostly cloudy skies and comfortable temps, but it hasn't warmed up yet.
Yesterday we sailed into the night but around midnight the winds all but died. We pulled them all down and motored till this morning. The winds picked back up so up went the sails and have been sailing since. More like sailing/surfing tho. We surge between 8.5 to the high 9's on some swells but every now and then one catches us at a different angle and pretty much leans us over and clears off the tables in here. Astor is taking it all in stride and she straightens right up. The autopilot has been doing great. The only real danger is that we are doing this with a 20kt tailwind only a couple of degrees off our port stern. If the wind manages to get on the other side of the main it might be bad even tho we have a preventer on it. I hear a couple of other cruisers on VHF talking about their conditions and having to steer manually, but listening to their reports we are in worse conditions than they are. They must be farther down than we are. I'm glad I don't have to steer. I fully intended to check into the M/F net this morning and I'd like to blame it on our sail hoisting drills earlier, but to be honest I also sorta forgot it was Friday. Really and truly, it's easy to lose track of the days out here. I'll see if I can find the baja net tomorrow. Today there has been nothing on radar. Quite different from yesterday. One of the more notables was the Dockwise transport headed North. It had a bed full of masts sticking up from it's hold. It's the easy way to take your boat uphill. All is great aboard.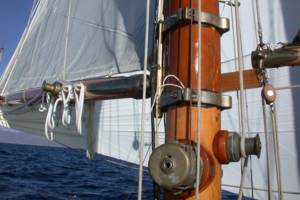 Paula's perspective: Definitely more challenging seas today than from yesterday. Nice size swells are coming up behind us and giving us a push. It gives new meaning to "don't rock the boat." If you could see me trying to get to one end of the boat you might mistake my fancy foot steps some Irish jig. However, I assure you, It's all about self preservation. Now the real test is trying to do the dishes while underway. Soap everywhere while trying to corral those pesky coffee mugs that are running for the other end of the counter. Oh, and did I mention knives. Enough said. Today is cooler and overcast giving the seas a gray cast resembling liquid silver. Everyday is different, yesterday was calm and sunny, today we have white capped waves. Some misguided bird is flying around out here with no land in sight. I've been told that they sometimes like to take a breather in the dingy before continuing on. More tidbits later.
Byron & Paula
Out From Ensenada
Dec/18/07
December 19, 2007 - Out from Ensenada
Hey guys! Things have been going great out here. We started out from Newport on the motor and ran all the way down to Ensenada. The super calm seas were actually a great way to break in the new crew to the surroundings and get used to how things were going to be for the next few weeks. We have been so busy this is the first chance we have been able to sit and type. By the time we made Ensenada Mon morning, much of that last truckload of gear was tucked away into their special spots on board. Since we were there for fuel, the new fuel bladders needed to be installed next. I'm pretty sure nobody has been that deep onto the lazarette in quite a while. I wasn't too worried until I found the remains of the last guy that went down there. Richard said he always wonderd what became of him.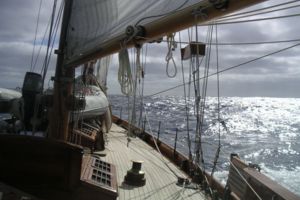 Now 90 miles South from Ensenada we find P and I on "dual/training watch" sipping earl grey and watching the radar during our 8pm to 2am shift. We just had to actively dodge a mystery vessel but we missed him by a mile (literally... I could hear his engines as he passed). Now we are ghosting along at around 7kts in 11 of wind. We currently have the genoa rolled out and main full up and were introduced to the "dragon" golly(that's a really big sail). The wind is clocking around a good 30 degree swing so we have to keep tweaking the autopilot to keep the sails from flogging around too much. All of this "chasing" has us pretty far off the projected course so we might need to do a sail adjustment in a bit. The seas are a little confused but mostly its a great night to be out on the water. There are now a few storm cells showing up on the radar so that's what is probably messing with us. Paula is doing really great and not one shade of green has shown up once. She is really liking it out here. We are both having a great time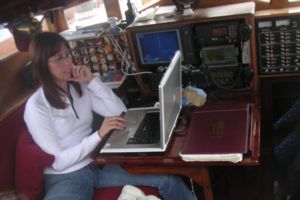 Thoughts from Paula: Hey! Who, moved my bed? Why does this feel like Sir Issac Newton's experiment gone bad, gravity . . . no gravity? What's that noise? No, not the constant humming of motor as we plod along the coast? No, not the million and one creaking sounds inside and out? No, it the Tahitian mask (the stuff of nightmares) as it swings away from the the wall of my berth, only to circle around and clatter against the wall again. I guess I'm not in Kansas any more.
Current position
30 25' N - 116 30' W
Countdown to the Atlantic
Dec/03/07
December, 2007 - Countdown to the Atlantic

Hello good friends and followers. Altho not much has been reflected through this website lately, this summer has been a busy one for Astor and much has been going on behind the scenes. Since our return to Newport Beach last August, we have been hard at work going over Astor from bow to stern, and bilge to the tip of the mast. For us, coming home meant being around many good friends again but also getting back to the shop so Richard can get to some projects that could not be done before setting off for the South Pacific. Astor even managed to get in a few runs to Catalina for the occasional reminder that it IS a boat that floats.

Today we are in final stages of the new booms and they should be on the boat in a few days. This was a project on the wishlist for quite some time. Delays at the lumbermill pushed the project WAY behind schedule and we were almost content(but very unhappy) to leave without the new booms when the new spruce just showed up one day! Rounding up a new energy and a month of furious planing, gluing and shaping now gives us three gorgeous new spars in varnish and hardware being installed for mounting
More pics will be up shortly but for now here are some teaser pics.

.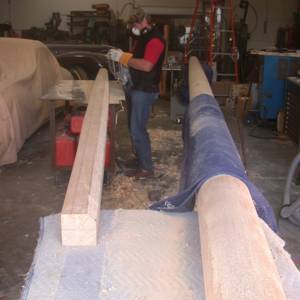 (making little sticks and lots of shavings from big sticks)

We also had time(just barely) to forge up some really nice bronze castings for the ends of all of the booms and goosneck for the main which is something one just has to see. The old iron hardware will finally be gone from the rig.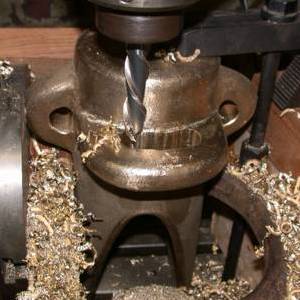 (a precarious clamping job to hog out a bail)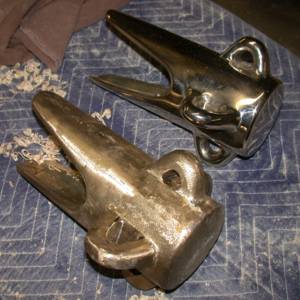 (two ends in various stages of finish)

If all goes well - after a few small chores and final checks we should be off to Mexico and beyond. Check back here shortly for the next chapter in the Astor Logs.

Astor Returns to the Atlantic after 84 years